Gallery Rifle and Pistol Monthly report 27th June 2021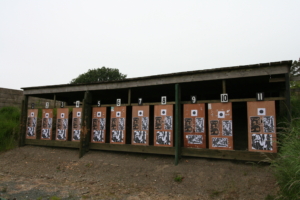 Competition Results
Thirteen ECSC members turned up for our first gallery rifle and pistol competition since 30th August 2020. I had received very positive feedback from many competitors who took part in last year's shoot with the suggestion that I run the same format for this shoot and so I did, with the first shots going off at 10:30. The morning's competition was challenging with the emphases on marksmanship. Our first target was the pistol T&P1 target 25mts, twelve shots in two minutes. Next up was the smallbore rifle MT at 20mts, six appearances each of two seconds with five second intervals between shots followed by the smallbore T&P1 rifle target at 15mts, again six appearances each of two seconds with five second intervals between shots. The last target at the 10mts line was the 25mt precision rifle target with three appearances each two shots in three seconds with intervals of five seconds. The HPS being 300.030. We had nineteen entries across four disciplines. My thanks to Paul F for taking over as Ro, allowing me to shoot.
With ten entries in the small-bore pistol open sights (SBP) the honours went to Paul F who showed us all how to do it with eighteen points separating him and second place. Well-done Paul. Our gallery rifle had the next highest entry with six competitors. It was great to see the interest in this discipline grow thanks to some of our new members like Steffan J in his first ECSC competition come third in the gallery rifle shoot with only one point between him and second place. But the biggest surprise of the shoot was seeing a visitor and prospective new member Andrew F whose father has collected gold medals over the past years in the 'Shooter of the Year' gallery rifle event, sweep to victory beating his father into second place. It was Andrew's first ever gallery rifle competition and it was a close fought battle from start to finish between father and son on the field of sport. With only four points separating them it was Andrew who emerged victorious after the scores were counted. Congratulations and well-done Andrew, looking forward to seeing more of you on the range in the near future. Full results below.
I wish to thank everyone who turned up to shoot what was a very enjoyable competition. Our next monthly competition shoot will be on the 25th July 2021 with first shots off at 10:30.
Anthony F
Gallery Rifle and Pistol Section
Results
SBP
| | |
| --- | --- |
| Paul F | 260 |
| Hugh D | 240 |
| Eugene McH | 238 |
| Andrew F | 222 |
| Kevin B | 210 |
| Maurice B | 205 |
| Anthony F | 187 |
| Thomas S | 166 |
| Ed P | 148 |
| Steffan J | 103 |
| OSBP | |
| Sean McE | 230 |
| Ed P | 150 |
| CFP | |
| Eddie K | 194 |
| GRSB | |
| Andrew F | 279 |
| Paul F | 275 |
| Steffan J | 274 |
| Ed P | 251 |
| Anthony F | 246 |
| Keith F | 223 |
http://eastcoastshootingclub.com/wp-content/uploads/2019/02/ECSC-50th-20190101-300x169.png
0
0
SMCEditor
http://eastcoastshootingclub.com/wp-content/uploads/2019/02/ECSC-50th-20190101-300x169.png
SMCEditor
2021-06-28 20:54:38
2021-06-28 20:54:38
Gallery Rifle and Pistol Monthly report 27th June 2021