Gallery Rifle and Pistol Monthly report 26th June 2022
Competition Results
Eight ECSC members arrived  up for the June gallery rifle and pistol competition. Holiday season and the dismal weather  saw a slight reduction in the numbers attending. We used the 'Timed and Precision (T&P1)' target set at the 25mts and 20mts mark and the 'Multi Target set at the 15mts and 10mts mark with the HPS being 300.030. We had nine entries across two disciplines. My thanks to Mark O'D for assisting me in with the RO-ing and allowing me to shoot.
The small-bore pistol open sighs (SBP) honours went to Rex C who took first place. Well-done to all who took part. Full results below.
I wish to thank everyone who turned up to shoot what was a very enjoyable competition. Our next monthly competition shoot will be on the 31st July 2022. Looking forward to seeing you all then.
Anthony F
Gallery Rifle and Pistol Section
| | |
| --- | --- |
| SBP | |
| Rex C | 288 |
| Anthony F | 261 |
| Kevin B | 220 |
| Angelo S |     217 |
| Maurice B |    173 |
| Thomas S |    152 |
| | |
| OSBP | |
| Sean McE | 285 |
| Rex C | 266 |
| | |
| CFP | |
| Eddie K | 265 |
I know you all like photos , so the following photo shows 4 members of our club at the recent Naas IMVG Military show which took place last weekend. From Left to right, a current Greek Military officer, a Corporal from the 24th Regiment of Foot at Rourke's Drift in South Africa, the Countess Markewitz in 1916 and Cap. Benjamin L. Willard from Apocalypse Now. The connection between the photo and the competition is shown by the revolver which has just been produced from the Countess' bag although this particular example is only an Airsoft replica.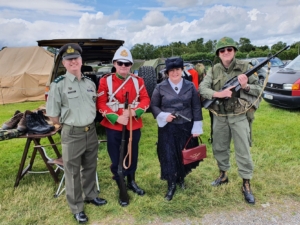 http://eastcoastshootingclub.com/wp-content/uploads/2019/02/ECSC-50th-20190101-300x169.png
0
0
SMCEditor
http://eastcoastshootingclub.com/wp-content/uploads/2019/02/ECSC-50th-20190101-300x169.png
SMCEditor
2022-07-03 18:49:15
2022-07-12 15:22:35
Gallery Rifle and Pistol Monthly report 26th June 2022