With the first six months of the year now a memory, our shooters launched into the second half of the competitive year with our monthly rifle competition.  These are held on the first Sunday of the month and form a break from the usual solo shooting to offer the chance for some friendly rivalry.
Prone shooting is the order of the first shoot of the day with two categories of competition being shot – supported rifle and non supported but with an arm sling.  Twenty shots at fifty metres and twenty shots at one hundred metres were fired for score, the scores tallied up for each and added together to give a final score.  The maximum score for the forty shots being 400.
The second event shot is the fifty metre precision category – shot standing at fifty metres and extremely challenging to do well in.  Steady nerves and great shooting posture are needed for this event.  Thirty shots are fired for score giving a highest possible score of 300.
Some say "it's not the winning that matters, it's the taking part".  That may be so for some but another way of looking at it is "it's not the winning that matters, it's beating your own personal best".  And what better challenge to test your shooting ability and to track personal improvements than our monthly competition.  All are encouraged to come along and join in the fun, the aim of the game being to beat your own PB each month – and if you keep doing this a win is inevitably coming your way!
Congratulations to our category winners today and a big well done to Stephen O for shooting his first competition.
We also had a visit today it seems from Santa Claus who left a big sack of medals due to ECSC competitors that were due from their podium finishes in national level competitions last year.  And it wasn't a lightweight sack either!  A huge congratulations to everybody who took a medal (or medals) home today.  Also a huge congratulations to Anthony F and Hugh D for taking home their glassware from their National Championships performances.  So if any ECSC member aspires for a national level competition medal – what better a first step can there be than by taking part in our monthly competitions and learning from other clubmates along the way?
Asa R. Rifle Section Coordinator.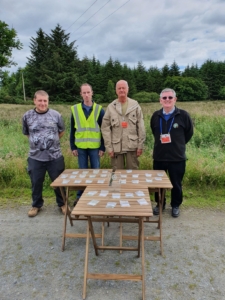 | July 2022 - 50 Metre Precision Results | | |
| --- | --- | --- |
| | | |
| Position | Name | Score |
| 1 | Asa R | 286 |
| 2 | Sean Mc | 285 |
| 3 | Hugh D | 282 |
| 4 | Keith F | 275 |
| 5 | Bryan P | 254 |
| | | | | | | | | | | | | | |
| --- | --- | --- | --- | --- | --- | --- | --- | --- | --- | --- | --- | --- | --- |
| ECSC Smallbore Rifle Monthly Shoot | | | | | | | | | | | | | |
| Date: 03/07/2022 | | | | | | | | | | | | | |
| | SBR 50m | | | SBR 100m | | | FSR 50m | | | FSR 100m | | | |
| Competitor | Card 1 | Card 2 | Total | Card 1 | Card 2 | Total | Card 1 | Card 2 | Total | Card 1 | Card 2 | Total | Grand Total |
| Asa R | 97 | 95 | 192 | 95 | 99 | 194 | | | | | | | 386 |
| Hugh D | 96 | 93 | 189 | 94 | 96 | 190 | | | | | | | 379 |
| Keith F | 94 | 90 | 184 | 95 | 96 | 191 | | | | | | | 375 |
| Bryan P | | | | | | | 97 | 96 | 193 | 98 | 99 | 197 | 390 |
| Sean Mc | | | | | | | 96 | 96 | 192 | 97 | 96 | 193 | 385 |
| Stephen O' | | | | | | | 57 | 56 | 133 | 92 | 89 | 181 | 314 |
| | | | | | | | | | | | | | |
http://eastcoastshootingclub.com/wp-content/uploads/2019/02/ECSC-50th-20190101-300x169.png
0
0
SMCEditor
http://eastcoastshootingclub.com/wp-content/uploads/2019/02/ECSC-50th-20190101-300x169.png
SMCEditor
2022-07-04 12:06:41
2022-07-04 12:06:41
Rifle Competition Results Sunday 3rd July 2022