The German Action Open Weekend in Leitmar, Marsberg in the Sauerland, Germany held over the weekend 13-14 November 2021 is an annual international gallery rifle shooting event encapsulating both small bore and centrefire rifle disciplines. Typically it involves teams from around the world including UK, Ireland, Germany and South Africa in hotly contested competition. Leitmar has four indoor heated ranges, each fitted with air extraction systems and turning target mechanisms which are digitally controlled and very effective, so there are NO whistles used here!!
Imagine my surprise when in early November I was notified that this year my scores had qualified me for selection as part of the small-bore team!!! Shooting abroad was always a distant desire for me, but having only taken-up gallery rifle shooting in 2017 I figured that I was going to have an uphill struggle against many younger, seasoned competitors with more experience but maybe one day it would happen. So this year it did happen and I was pleased to accept the offer and start the process of getting ready for the competition and of course dealing with the COVID travel rules and firearm transport rules!! The short version is that Aer Lingus offered a no-hassle, trouble-free transit through check-in and leaving Ireland to Germany was easy once I had a vaccination certificate!! Arriving in Frankfurt was similarly trouble-free with the German Police being very relaxed with processing me through and having a letter of invitation from the German Police Shooting Club in Leitmar helped too!!
Arriving Leitmar there was a very warm welcome from all at the BDMP range and the members couldn't have been more helpful and many acquaintances were renewed having met their team in Bracken at the Irish Open in 2019 when I was Chairman of the NASRPC and presented many of them with their winners medals!! Arriving at the range late on Friday evening I was allowed as much time as needed on a range to re-zero me and the rifle (a Ruger 10/22) and then we all rested up before reporting the next morning for the first competition, which for me was a GRSB 1500. Starting exactly at 0900 we were finished at 0935!!! This was very quick as I think these competitions are allowed a full hour to complete on Irish ranges!! Nevertheless I was happy enough with how things had gone and I was able to take a break before the Team GRSB event at 1430hrs, which saw five shooters from each nation competing. We did well, but I had a magazine drop out of the rifle after loading it, leaving me insufficient time to reload and fire a fresh one. This knocked back my scores but c'est la vie, and very frustrating as I've NEVER experienced such an incident before!
One of the joys of shooting in Germany was the number of M1 carbines available to legally borrow from the club! So on Sunday I purchased some ammunition and took part in Multi-Target and Timed and Precision1 events, a very familiar course of fire which has been used in both East Coast and throughout the NASRPC clubs for many years. This effort ultimately produced a Bronze medal!!
Our hosts were warm and friendly at the club and off duty and once again all shooters were invited to enjoy a German Evening on Saturday night in the club presidents home, with beautiful roast ham and apple cider to wash it down!
All in all it was a memorable weekend and shooting indoors in a fantastic range (actually four of them) in great company and a competitive atmosphere. Lovely to travel to another country albeit with a mask on all the time, but these are the days we live in. Finally I must thank my fellow Irish team mates who made every effort to support me as anew 'cap' in getting all of the arrangements completed. It was reassuring to hear the art of the possible and spend a very enjoyable few days in their company, have a bit of fun and see them shoot so well and in such good spirits. "
Paul F.
Chairperson
East Coast Shooting Club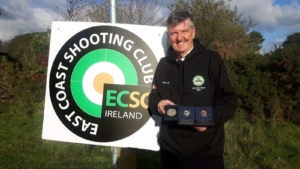 http://eastcoastshootingclub.com/wp-content/uploads/2019/02/ECSC-50th-20190101-300x169.png
0
0
SMCEditor
http://eastcoastshootingclub.com/wp-content/uploads/2019/02/ECSC-50th-20190101-300x169.png
SMCEditor
2021-11-25 18:49:40
2021-11-26 12:24:27
A Trip Abroad- With the Irish Shooting Team.