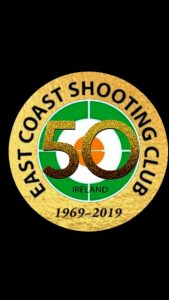 MESSAGE FROM CHAIRMAN, EAST COAST SHOOTING CLUB.
We now approach the end of 2018 and can reflect on a very successful years shooting. The club has continued to improve its facilities and offers a full menu of archery, shotgun, pistol and rifle shooting opportunities. If you haven't tried each one of them, arrange an introductory 'shoot' with Reception and an experienced shooter will be provided to coach you and explain the features of each format. This would be an excellent first Resolution for you in the New Year so do give it a try, you might find a new shooting skill or interest – what's to lose?
In 2019 the club will celebrate its 50th Anniversary year. Starting out originally as Fassaroe Shooting club it has maintained its' reputation as a friendly, welcoming and safe place to shoot and socialise. The year will be one that we will celebrate on the range, through shooting activities throughout the year, but also celebrate socially by way of a club dinner. The Committee will concentrate on the day to day conduct of the clubs affairs but has appointed a 50th Anniversary Committee to look after the details of the celebration. Your participation in the years' events is warmly invited but also your help will be needed in areas such as range cleaning and maintenance, it doesn't clean and paint itself!! Keep a regular eye on the club website for details on these and other activities.
The National Association of Sporting Pistol and Rifle Clubs (NASRPC) will conduct a national shoot on our range in the early summer. This will require East Coast as host club to provide the requisite number of Range Officers and Administration Staffs to support the shoot. Our neighbouring club, Hilltop Shooting Club, is hosting a palette of NASRPC competition skills training days in 2019. Designed to improve CRO/RO and administration skills and increase the number of those in the clubs holding them, the day will be conducted around a short programme between 10 a.m. and 2 p.m. with the first of these courses to be held on 12 January 2019, focussing on Range Officer and Admin training; the second will be held on 23rd March and feature instruction in Gallery Rifle/Pistol competition formats; 6th April will be an additional Gallery Rifle/Pistol conduct course; May 18th will feature Competition Range Officer instruction and the final in the series on 15th June will be to instruct and inform upon Chief Range Officer duties, safety procedures and responsibilities. East Coast members should seriously consider attending some or all of these days as these are skills that we can and do use on our range.
Last year a small number of East Coast members engaged in the calendar of National Shoots held in NASRPC affiliated clubs around the country. Overall they achieved a highly creditable second place result and this can be improved upon this year readily if more of our members get involved. As part of your 50th Anniversary experience thus year why not try and at least get to Hilltop Shooting Club and our own club NASRPC competitions? These are the closest ones to travel to and you might be pleasantly surprised at what you can do at this level!
I wish all of our members and their families a Happy New Year and encourage you all to join in making 2019 an enjoyable, memorable and rewarding year for East Coast and one which you will take on to challenge and develop your own shooting skills and interests!
Paul F
Chairman.
East Coast Shooting Club.
http://eastcoastshootingclub.com/wp-content/uploads/2019/02/ECSC-50th-20190101-300x169.png
0
0
SMCEditor
http://eastcoastshootingclub.com/wp-content/uploads/2019/02/ECSC-50th-20190101-300x169.png
SMCEditor
2019-01-03 16:56:22
2019-01-03 16:56:22
New Year's message from the Chairman.