COMPETITION RESULTS
MONTHLY GALLERY RIFLE AND PISTOL SHOOT 28 APRIL 2019
Wet and damp weather greeted us on the range this morning for what was to be a challenging match in the monthly gallery rifle and pistol shoot. Multi Target was the day's  format with twenty four shots in strings of six rounds fired at four distances ranging from 25 metres, 20 metres, 15 metres and 10 metres with a possible score of 120-24x's. This competition is shot double handed. There were eleven competitors and sixteen entries. The battle for first place in the pistol iron sights lay between three competitors who tied on 104. It all came down to the X count with first place going to Eugene Mc who achieved 7x's followed by Sylvester with 3x's and Peter in third place.  Next up was the pistol 'Red Dot' category with the honours going to Sean Mc who achieved a very competive score of 114 out of a possible 120 with Cathal C coming  second on 111 and Trevor J taking third place with 102. We had three rifle categories too, Centrefire, Smallbore and M1 carbine. My thanks to all those who competed and a special thanks to Pat C who stepped into the Range Officer position and relieved me to shoot the three competitions. The competition results are below.
Last Sunday was my first time as gallery rifle and pistol section chairman to run the monthly shoot after taking over from Paul F. In fact, it was Paul who first introduced me to gallery shooting and I must admit I was bitten by the bug and have not looked back since. Paul has given years of his time and dedication to the ECSC gallery rifle and pistol section and I'm sure that I speak for all members when I thank Paul for all the effort and hard work he has put into the running of it.
Our next monthly gallery rifle and pistol event will take place on Sunday morning 26th May with the first competition shots away at 10:30. The format will be the T&P1. I look forward to seeing you all then.
MULTI  TARGET (MT) – SMALL BORE PISTOL OPEN SIGHTS (HPS 120)

 

Eugene Mc
 

104   –  7x    (decided on X count back)

Sylvester
104   –  3x
Peter P
 104
Anthony F
 100
Pat C
 96
Cathal C
 89

 Ed P

59

MULTI  TARGET (MT) – SMALL BORE PISTOL RED DOT SIGHTS (HPS 120)

 

Sean Mc.
 114
Cathal C.
 111
 

Trevor J

102

Bryan P
 101
Anthony F.
 92
MULTI  TARGET (MT) – CENTREFIRE PISTOL OPEN SIGHTS (HPS 120)

 

Cathal C
 85
Mark O'D
 58
MULTI  TARGET (MT) – SMALL BORE GALLERY RIFLE (HPS 120)

 

Anthony F.
 102
 MULTI  TARGET (MT) –  GALLERY RIFLE M1 CARBINE (HPS 120)

 

 Bryan P
101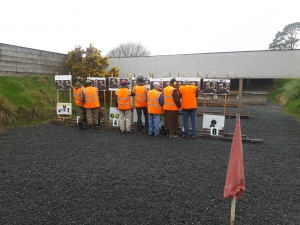 Anthony F
Gallery Rifle and Pistol Section
http://eastcoastshootingclub.com/wp-content/uploads/2019/02/ECSC-50th-20190101-300x169.png
0
0
SMCEditor
http://eastcoastshootingclub.com/wp-content/uploads/2019/02/ECSC-50th-20190101-300x169.png
SMCEditor
2019-04-29 19:26:31
2019-05-01 19:48:50
MONTHLY GALLERY RIFLE AND PISTOL SHOOT 28 APRIL 2019