Another very busy day on the range with 2 competitions running and many visitors from other clubs. The monthly pistol shoot write up and results will be posted here later. The other competition was the National Silhouette Association' regular monthly shoot which attracted visitors from as far away as TIpperary and as you know, it is a long way from here to there! The photo below shows some members of the Tipp Team  from the Suirside Club celebrating their safe arrival in Wicklow. Dan, Ger and Matt proudly show off the Team colours is a fetching mix of blue and yellow. You will see that the County Colours are also displayed on the air rifle target box.
The next photo shows the air rifle silhouette targets alongside the small bore(.22) targets. The former are half the size of the latter and set out at approximately half the distance.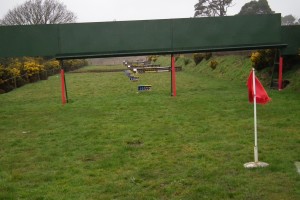 Here you can see Henry from the BRC club taking part in the Air Rifle competition and Dave from the ECSC running the stats office. If you are not happy with your score, you can always approach Dave to get it improved. He will treat your request with kindness and consideration and suggest that more practice may be required. The Silhouette competition results are shown in the results section of the website.
http://eastcoastshootingclub.com/wp-content/uploads/2019/02/ECSC-50th-20190101-300x169.png
0
0
SMCEditor
http://eastcoastshootingclub.com/wp-content/uploads/2019/02/ECSC-50th-20190101-300x169.png
SMCEditor
2016-04-04 10:12:35
2016-04-04 10:12:35
The Sunday Blog 3rd April 2016