Weather to-day was excellent to start with, sunny and warm but then became overcast and warm finishing off with drizzle and warm!! Numbers were the highest ever with sixteen entries in total being registered. Centrefire competitors turned up again but in small numbers. This mornings' competition repeated the July format, using the NRA 25Yard Precision Format, shooting ten rounds in five minutes in three serials. For added challenge this month it was shot single-handed. HPS was 300.
Congratulations to Maurice on his repeat win in the rim-fire category, an outstanding result shooting 288/300HPS and also to Frank on his centrefire win of 275/300.
Here is a view of one of the details with the competitors concentrating hard with arms extended!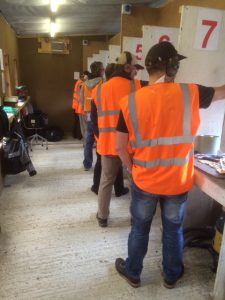 The next competition will be held on Sunday 25th. September 2016 at the Club, first shots off at 1030 a.m.
Paul F,
Pistol Section.
COMPETITION RESULTS – RIMFIRE.

NRA 25Yd Precision – HPS 300.

Maurice B.
288
Frank B.
274
Sean Mc.
271
Paul F.
267
Padraig B.
262
Brian B.
255
Anthony F.
253
Cathal C.
247
Jack L.
218
Kevin B.
208
Ed P.
206
Joe J.
111
Ian H.
106
COMPETITION RESULTS – CENTREFIRE.

NRA 25Yd Precision – HPS 300.

Frank B.
275
Brian B.
262
Eddie K. (.38Spl)
188
Report by Paul F.
http://eastcoastshootingclub.com/wp-content/uploads/2019/02/ECSC-50th-20190101-300x169.png
0
0
SMCEditor
http://eastcoastshootingclub.com/wp-content/uploads/2019/02/ECSC-50th-20190101-300x169.png
SMCEditor
2016-08-29 21:30:34
2016-08-30 13:26:37
PISTOL COMPETITION REPORT Sunday 28th August