One of our regular Silhouette shooters, Nick Flood, took part in the 2017 European Silhouette Championships, which were held in Deicin, in the Czech Republic two weeks ago. He has provided us with the following match report..
The competition was held this year in the town of  Deicin  in Czech Republic. The qualifying criteria for team selection took place over three competitions held at the end of the 2016 season. I was delighted to be selected again, as I had not shot an international event since starting Osteopathic studies in London in 2005. So it was interesting going into the event in away, which was significantly different then I had done in the past Internationals.
Range Location thanks to GOOGLE Deicin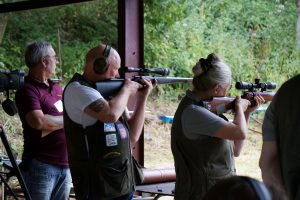 Silhouette changes over time in the form of its competitors, new people come and the older shooters remain, as it is enjoyable for all ages.
Silhouette shooting is shot on small steel animals, in each event the competitor shoot 10 targets at 40 (M) meters 10 shots at 60 m, 10 shots st 77m and finally 10 shots at 100m. The total score is 40.
One of the new shooters is Dunjia Lamprecht, a young Austrian girl from Graz, she hails from a long line of competitive shooters, both grandfathers shot international and both her parents shot ISSF competitively
Over the years I have seen some great shooters and heard stories which border on folk lore, one is Troy Lawton, who won a truck, after shooting a perfect score which is 40/40 in a smallbore event, this is as rare as hens teeth. Others include Lones Wigger Olympic medal winner and a force extraordinary, and Cathy Winstead from Montana ex Olympic running target shooter and World Champion, from France Nicholas Berthelot Olympic Silver medalist who I shot against at a World Championship and who at the event shot a 40/40 all of these people I have shot with in competition over the years.  This past year, prior to this European Championship, Ms Lamprecht shot in an event 40/40 on three separate occasions, I think she is the youngest ever-double World champion in both high power and small bore events.
My preparation for this year European championship took all that into consideration, and with it, some realism. Earlier in the year I had come up with a system where by I believe I could shoot a 40/40 every time, however to make it happen I needed equipment to help me towards the endeavor. Unfortunately I was not able to secure it before the event and develop a training regimen around it.
I had to defer the use of such a system until next year at the World Championship, which is being held in Finland.
This year's competition got off to a reasonable start, there was a delay in getting a practice slot for me officially due to rostering errors. The Austrian team allowed me to practice alongside them during their official practice time. Practice sessions were held four days before the day of the competition, so there was a lot of time hanging around beforehand. My previous outing to this ex Russian military range in 2002 had a previous problem which we overcame  by organizing a 50-meter range, 10 kilometres away, to practice The benefit of this is  to keep confidence levels up.
.
The first event was the light Rifle. Spotting for me was one of the Norwegian team members called Christian, he was very competent, and a good help. At the the start of each event you  are allowed five sighters which are shot in 2:30 seconds, here you can shoot the sighter targets at the different distances, I put two shots on target at 40 meters and adjusted zero before going on to 60 meters, working out any possible changes to 77 and a 100m. The score in the first run was 9,9,8,8 giving me a 34/40, second run that after noon gave me a 10,9,7,9, total of 35/40 and a 3rd or bronze medal. My aggregate score was 69/80.
The second day was the Small Bore Rifle (SBR) event which is an open class. Here target rifles can be used with light triggers. I use a standard .22 hunter style rifle in both classes as I can get good zeros all the way through the event. The second day started in the morning with a 10,10,8,8, total of 36/40 and in the afternoon the rain came. It absolutely thundered down, it was akin to being in a monsoon, and at the time I was shooting at 100 m Rams. I added a minute of elevation and started to knock them down, I quickly realized the zero was perfect the first silhouette went straight back, by the time the rifle recovered I could still see the target moving backwards with a shot dead center, I finished up with 9,10,8,8, total of 35/40
Overall I was content with the score, I would have liked to have done better, but all in all it was ok. My aggregate score for SBR was 71/80 which I tied with Ms Lamprecht for the silver medal, I was to lose this in a shoot off at 100m Rams, Dunjia shot all five and I shot 1, it was a significant beating, I felt battered and bruised. But I got Silver in the overall championship.
The over all championship finished with the following scores
| | | | | | |
| --- | --- | --- | --- | --- | --- |
| Pos. | Name | Country | SBRS | SBRL | Total |
| 1 | Nikko Marko | Finland | 74 | 70 | 144 |
| 2 | Flood Nicholas | Ireland | 71 | 69 | 140 |
| 3 | Walter Martin | France | 70 | 68 | 138 |
| 4 | Lamprecht Peter | Austria | 68 | 70 | 138 |
| 5 | Lamprecht Dunja | Austria | 71 | 63 | 134 |
| 6 | Fenaux Veronique | France | 65 | 61 | 126 |
I would like to thank ECSC for their help over the years and my club mates for all their help and support, and particularly to National Silhouette Association of Ireland committee.
http://eastcoastshootingclub.com/wp-content/uploads/2019/02/ECSC-50th-20190101-300x169.png
0
0
SMCEditor
http://eastcoastshootingclub.com/wp-content/uploads/2019/02/ECSC-50th-20190101-300x169.png
SMCEditor
2017-08-02 09:46:16
2017-08-02 11:17:47
2017 European Silhouette Championships, Deicin, Czech Republic