One day ahead of Guy Fawkes night there were no fireworks to be seen but there were a few sparklers!  A few hardy men and some spectators arrived to compete. The early  arrivals are  pictured below(except for the photographer) of course):-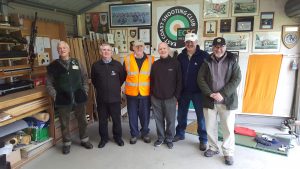 Conditions were benign with little wind so no excuses could be found if your performance was below par. This event is usually shot with scopes set  at higher magnifications. There are some benefits to this, such as seeing your fall of shot, but also some disadvantages. High power implies a small field of view. The targets and the frames are identical for each competitor although the position number is shown at the bottom of the frame. At high power, this number can not be seen hence care is needed to prevent cross firing onto someones else's target. When all of the targets were scored, one target showed only 25 shots instead of the 30 fired but the group size indicated some accuracy for the shooter so it was unlikely that they had missed. You sometimes get 2 bullets in the same hole but this usually show some enlargement and is statistically highly unlikely to have happened 5 times. The mystery was solved when another target showed 35 shots on it. This competitor received the highest scoring 30 shots on his target and the person who cross fired lost all 5 scores from his total.
This competition will be held on the first Sunday of each month from now on with the next competition taking place on the 2nd December.
Results are shown below, highest possible score is 300
Ralph L. 278
Sean McE. 277
Sandy W. 258
Sean Ma.r 238
Anthony F. 234
http://eastcoastshootingclub.com/wp-content/uploads/2019/02/ECSC-50th-20190101-300x169.png
0
0
SMCEditor
http://eastcoastshootingclub.com/wp-content/uploads/2019/02/ECSC-50th-20190101-300x169.png
SMCEditor
2018-11-06 11:56:59
2018-11-06 11:58:48
Gallery Rifle 50 Metre Precision Competition 4th November