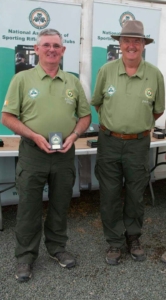 Anthony Fagan showing his winners medal in the 'Open' field sporting rifle at 100mts in Bracken Shooting Club.
EAST COAST MEMBER NOW HOLDS FIVE NATIONAL SHOOTING RECORDS.
Members will be very familiar with Anthony Fagan from his enthusiastic conducting of the monthly pistol and gallery rifle competitions but Anthony's heart has long been in rifle shooting. He is an accomplished rifle shooter across many disciplines and has been a top competitor across the national spectrum of events. The last fifteen months have seen him land a number of national records starting with the NASRPC Irish Open in May 2018, located at the Midlands Shooting Centre. Anthony entered the Field Sporting Rifle event. Most shooters would use a bi-pod, but Anthony decided to opt for a different type of stability by placing his Anschutz standard rifle on his gym bag!! Using this novel arrangement he scored a 50 metres National Record of 398.027 out of a possible 400.040!
Anthony returned to the Midlands Shooting Centre, Tullamore, in March 2019. The NASRPC introduced an 'Open' class for field sporting rifle shot at 50mts for the first time at their National shoot. Anthony shot a National Record with a 395.023×400.040.
More recently in July 2019 at the NASRPC National Open in Bracken a new 'Open' field sporting rifle at 100mts shoot was introduced for the first time. He duly took his Anschutz target rifle with a telescopic sight that had seen so many victories' along the way and put in another National Record, scoring 399.027×400.040.
At the NASRPC National shoot in BRC Shooting Club 24/25 August 2019 Anthony discovered to his horror (I was there and witnessed this!!) that he had taken along the wrong rifle for the bench rest semi auto 50mts shoot!! After a short ask around he was kindly loaned one, but was instructed by the owner not to change any settings on the rifle. So he was obliged to shoot the match looking through blurred crosshairs and had to aim off to achieve his point of impact. So despondent was he that he didn't even bother to count his scores, he just replaced the targets with another fresh one for the next shoot and handed the old ones in to 'stats'. He wasn't expecting to be in with a chance of winning.  Imagine his surprise when he was informed by the rifle owner the next day that he had shot another National Record in Semi Auto 50mts Benchrest of 483.017×500.050!!
The report on the shoot on the NASRC website provides another angle on this set of circumstances:
"Most notable being Anthony Fagan who borrowed my 10/22 to shoot the Semi-Auto Benchrest, and without adjusting the scope that was zeroed for 25 meters he shot a 483.017 setting a new national record in Semi Auto Benchrest.  It also trumps the current record in the Factory Sporting class too, an amazing achievement."
His fifth National Record in Field Sporting Rifle 100mts (FSPR100) with a record score of 396.015 and was shot in BRC in August at the same time that he shot the semi-auto Benchrest record!!!
Well done Anthony, an outstanding series of results!
Paul Fry, Chairman East Coast Shooting Club.
http://eastcoastshootingclub.com/wp-content/uploads/2019/02/ECSC-50th-20190101-300x169.png
0
0
SMCEditor
http://eastcoastshootingclub.com/wp-content/uploads/2019/02/ECSC-50th-20190101-300x169.png
SMCEditor
2019-10-01 14:21:31
2019-10-06 20:34:45
ECSC Member Now Holds 5 National Shooting Records